PREMIUM DESIGN AND MATERIALS
Hypergate - LITE
Sleek, Premium Design
Designed in partnership with NZXT, the HYPERGATE Lite combines incredible aesthetics with entry level gaming PC parts. With full support for NZXT's ecosystem of premium parts you can be confident in the performance of your new PC. Capable of playing your favourite esports titles at high frame rates in 1080p and customisable with your choice of RGB lighting and even higher performance parts.
Asus RTX 3060 Dual OC - 12GB - V2
AMD Ryzen 5 5600 | 4.4 GHz | 6 Cores 12 Threads
16GB Kingston Fury Beast Black 3600MHz (2x8GB)
512GB Aftershock (Samsung) Gen4 M.2 NVME (R: 6900MB/s | W: 5000MB/s)
Gigabyte B550 Gaming X V2
Hypergate
Get the NZXT Ecosystem
The Aftershock HYPERGATE was designed in partnership with NZXT to best utilise NZXT's award winning ecosystem, signature clean design, and premium materials. This PC best suits 1440p AAA gaming, or those wanting to do photo/video editing and 3D modelling.
Gigabyte RTX 3060Ti Eagle OC V2 - 8GB
AMD Ryzen 5 5600X | 4.6 GHz | 6 Cores 12 Threads
16GB Corsair Vengeance Pro RS RGB 3600MHz (2x8GB)
512GB Aftershock (Samsung) Gen4 M.2 NVME (R: 6900MB/s | W: 5000MB/s)
Aftershock Spectra Glacier Mirror 240mm
Gigabyte B550 Gaming X V2
Hypergate - ELITE
Hypergate Elite - Extreme NZXT PC
The Aftershock HYPERGATE Elite is a design masterpiece that is equally suited to playing the latest blockbuster AAA games at 4K resolution or tackling heavy-duty creative, studio, or professional workloads.
Gigabyte RTX 3070 Vision OC V2 - 8GB
Intel Core i7-12700KF | 5.0 GHz | 12 Cores 20 Threads
32GB Corsair Vengeance Pro SL RGB 3600MHz (2x16GB) - White
1TB Gen4 Samsung M.2. NVME (R: 7000MB/s | W: 5100MB/s)
Aftershock Spectra Glacier Mirror 360mm - White
Gigabyte Z690 Ultra Durable AX - (Wi-Fi / Bluetooth) - DDR4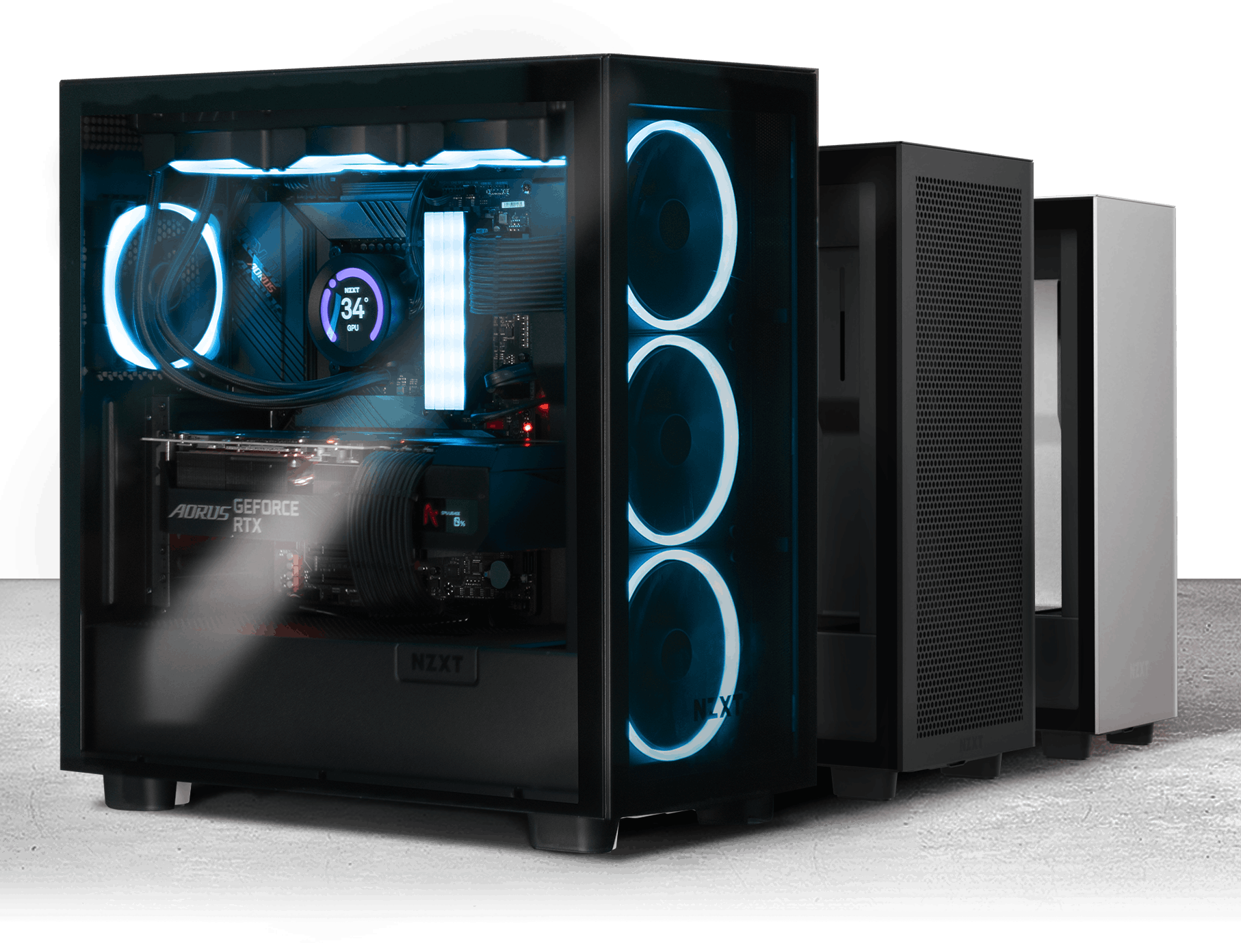 The all new Hypergate v2
Imagine what's possible!
Introducing the all new Aftershock HYPERGATE v2, built in the brand new NZXT H7 chassis. Let your imagination run wild with the ability to customise every aspect of this PC. Your choice of either full glass, metal, or mesh front panel means endless possibilities for performance and aesthetics.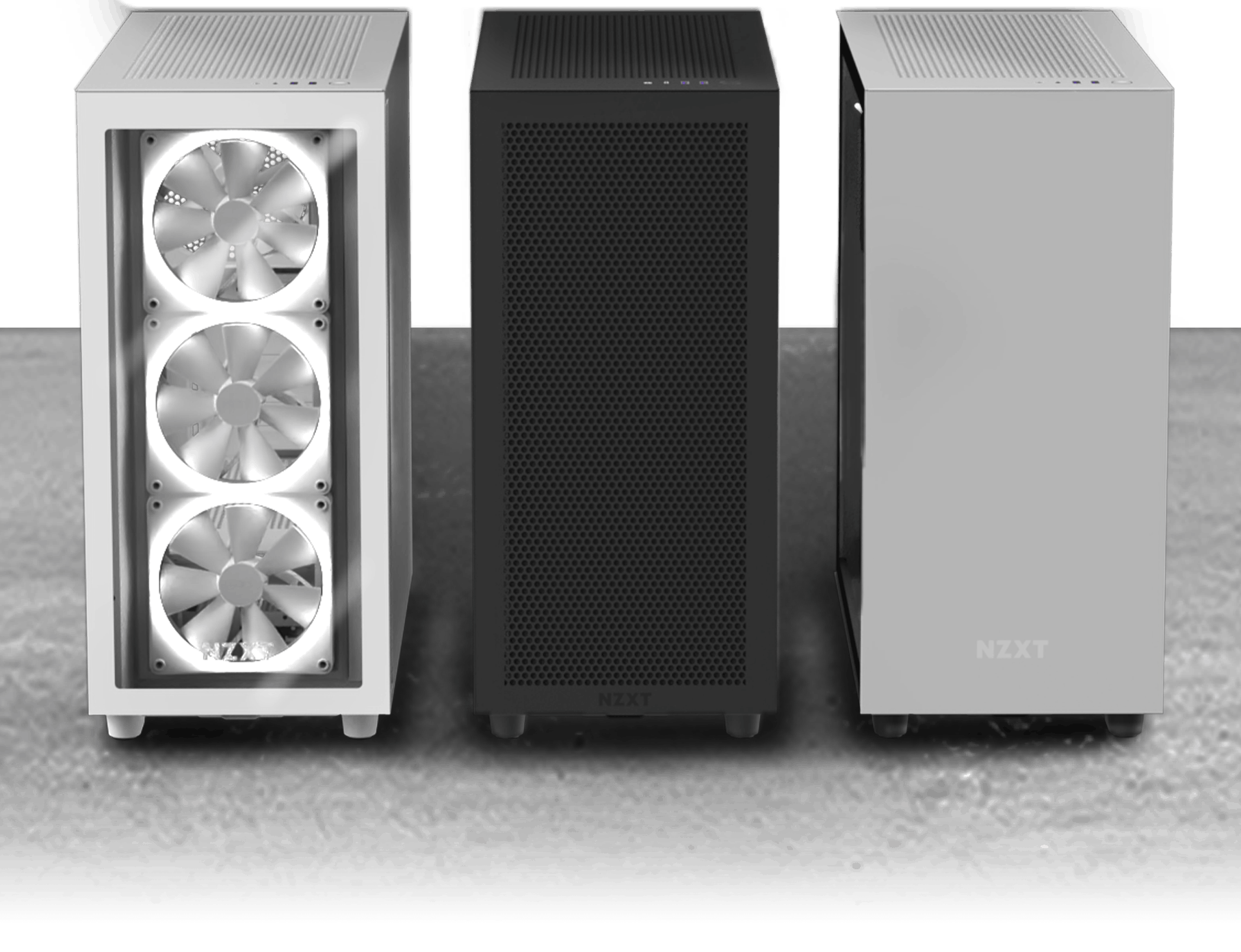 Full Tower, Full Power
With a full tower case, you can enjoy the unlimited potential the space provides. The Aftershock HYPERGATE v2 gives you compatibility with every current PC component:
• Max out your performance with the beefiest of GPUs.
• Fill your build with RGB fans & lighting options.
• You aren't limited by any components!
NZXT's Award Winning Ecosystem
Enjoy NZXT's entire range and build with their signature clean design and premium materials.
RTX 30 SERIES GPU
Power your build with NVIDIA's latest RTX 30 Series graphics cards and experience the next generation of gaming. Get ready for 4K gaming as improved features such DLSS and 2nd gen ray tracing deliver stunning high resolutions with buttery-smooth framerates, even in the most graphically demanding titles.
CHOOSE YOUR PROCESSOR
Experience the incredible performance of the latest 12th Gen Intel Core and AMD Ryzen 5000 Series processors, with blazing fast boost clock speeds and up to 16 cores and 32 threads. Stream esports titles and AAA games in gorgeous high resolutions, while still keeping up your frame rate. With AI-based performance boosts and multi-threaded processing improvements, content creation, 3D modelling and video rendering has never been easier.
CHASSIS INFORMATION
NZXT H7
Dimensions
494mm x 230mm x 516mm [ L x W x H ]
Cooling Fans Support
Front - 3x 140mm / 3x 120mm
Top - 2x 140mm / 3x 120mm
Rear - 1x 140mm / 1x 120mm